This week Amortech and Hollow Earth Media roll out their new product called Q.me. Q.me is a powerful virtual queuing app that will change the way businesses handle their busiest hours with innovative line management based on SMS notifcations and real time mobile monitoring.
Efficient customer flow management  has become an important aspect of offering an unforgettable experience. Consumers are becoming increasingly fast-paced and it is important for you to accommodate their demanding schedules in order to maintain long-lasting relationships.
The highly anticipated release of Q.me now enables customers to virtually queue themselves into line, empowering them to wait where & how they like. Once their spot is nearing the front of the line, they receive a text message notifying them to make their way back to your establishment.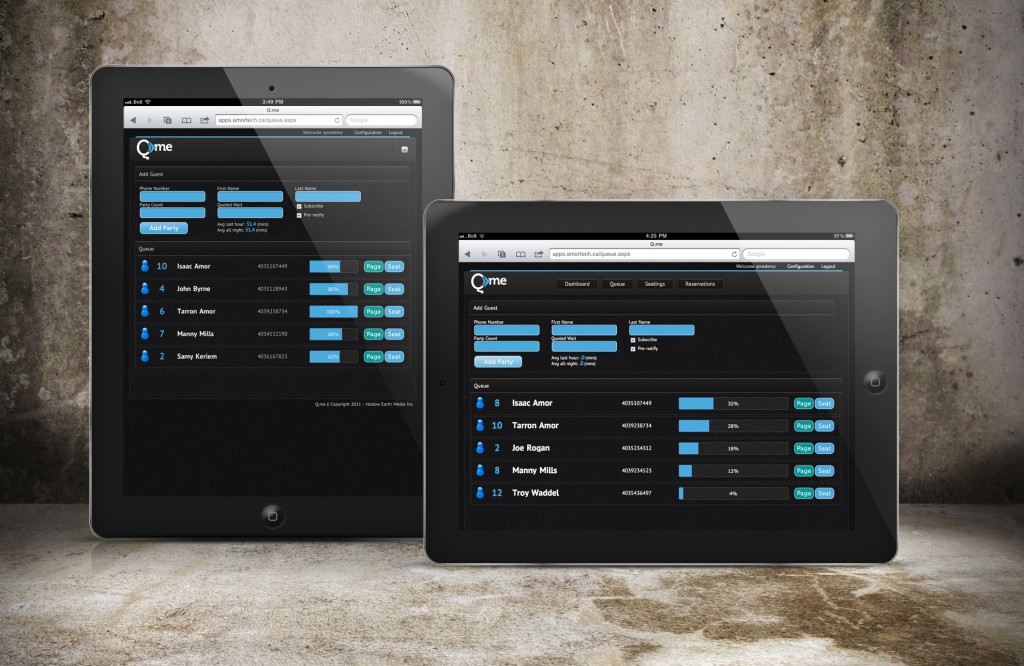 Q.me showcases Amortech's Calgary iPad and tablet development by seamlessly optimizing itself for full compatibly with iPad, Android and Widows based tablets, 95% of ALL mobile devices and of course all web browsers on PC and MAC. This allows for unlimited flexibility within the establishment from managers with computers to hostesses with tablets to guests with mobile devices. Q.me will never look and perform better because…. it's optimized for it!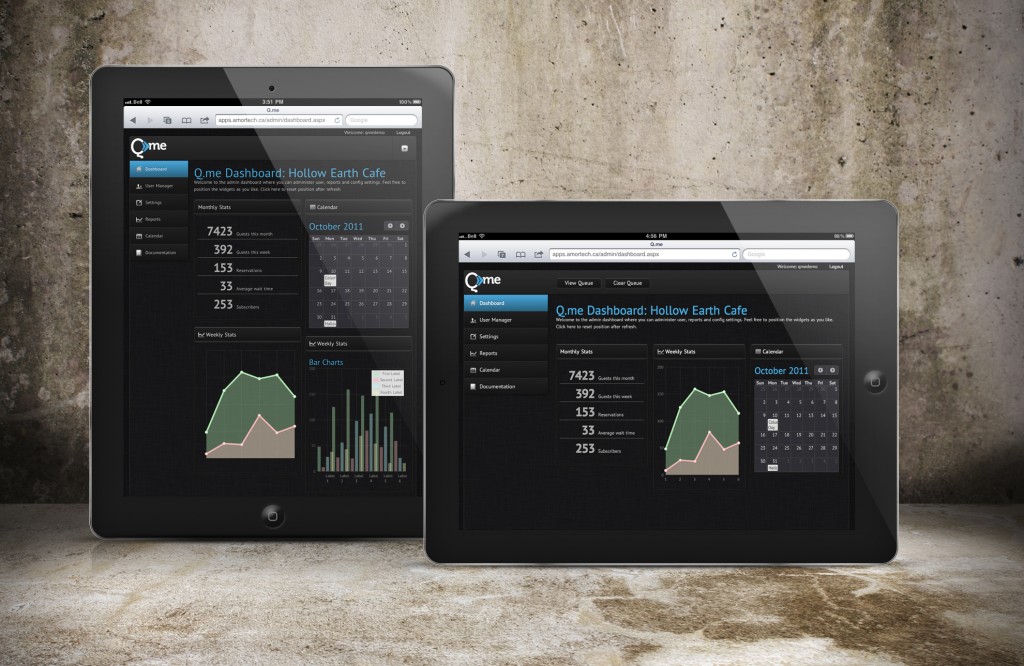 Q.me has the power to divulge many important statistics about your customers' experience, ROI and many helpful calculations all in one place. As a manager, you have full control of all the logins and site-wide settings.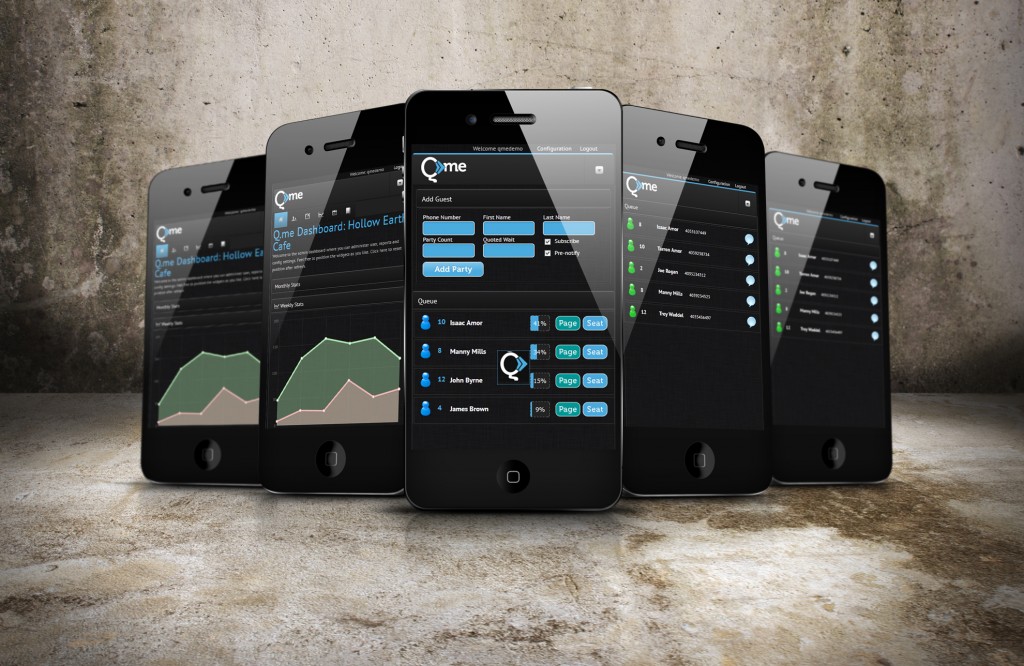 Q.me is completely smartphone ready, giving the guest the flexibility to check thier status in the queue by logging in from a mobile device. Future features include "self-queueing" from a mobile device, queue removal if by chance the guest has to cancel, and queue position updates in case the guest is running behind. Powered by Amortech's Calgary Mobile Web Development Studios
Recommended Demographics:
Retail
This freedom encourages your customers to spend more time shopping and less time standing, resulting in an increased customer spend.
Restaurant & Bars
Patrons are  willing to wait longer periods of time when given the freedom to wait elsewhere, decreasing your turn-aways and increasing your sales.

Government & Health Care
Providing people with the freedom to wait in line as they continue working results in less time off requested by employees and a much more efficient community.
Education
Every semester, students find themselves spending countless hours in line ups to purchase books, transit passes, lockers and other post-secondary essentials. Allowing them to spend that time differently results in more productive student body.
Features:
Stunning Interface
Q.me looks and responds like it was developed in the future. Utilizing all the best that HTML5, jQuery, and APS.NET has to offer. The responsive layout allows for use on screens 320 pixels wide all the way up to 2560+ pixels!
Precise Reports
Track your progress and drill down to see how efficient your front staff is at properly quoting the wait times. Analyze things like turn-away ratio, turn-over ratio, quoted wait time versus actual wait time, total guests seated, return guests and more.
24/7 Support
We stand by our product 100% and assure you the best customer service in the industry. We are on call all day every day and especially during peak hours. In case of emergency, we can have you an export of the current queue in your hands within minutes.
Cloud Based Hosting
Q.me resides on of the most reliable cloud hosting networks in North America and take full advantage of Amortech's
Calgary Enterprise Hosting Infrastructure
. Our nodes are scaled every time a new client is added which guarantees you lightning-fast usability without compromise. By clustering our resources and taking advantage of round-robin DNS across multiple ISPs you can be assured that there will be zero downtime.
Spotlight On Usability
Q.me performs on any device that has access to the web! We do recommend use on a laptop or pc/mac with a standard size display for the most effective use. With that said, Q.me is 100% compatible with iPad and Android Tablets (10″+ screen for best results) and in case of emergency the app can be fully administered on a handheld mobile device!
Conclusion:
This product showcases the turn-key software development skills of AMortech Design Labs. From concept to implement to testing to deployment and all the way to branding and marketing. We will make any idea a fully marketable product.